Music in St Patrick's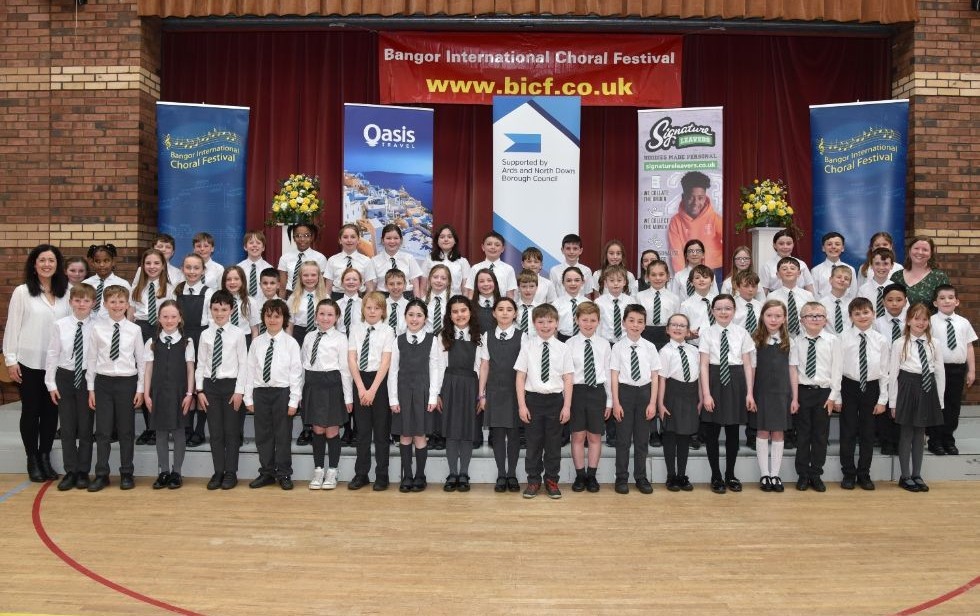 The school choir at Bangor International Choral Festival
We have a very vibrant musical life in the school. We truly believe that, apart from the enjoyment music can bring to our lives, the skills and opportunities developed by involvement in music enrich our children's ability to learn across all areas of the curriculum, learn about other cultures and develop a form of self-expression.
Following the Northern Ireland Curriculum classes participate in a range of listening, performing and composing activities as they progress through the school. They have opportunities to perform at school events and, occasionally, events outside of school too. Classes from P4-7 have an opportunity to learn tin whistle in class music lessons.
We have participated in workshops and concerts with the professional musicians from the Ulster Orchestra, Scottish Symphony Orchestra, Arco String Quartet and past pupil, Michael Darcy.
In addition to class-based music activities we also have many students from P4-7 taking individual and group instrumental lessons with tutors from the Education Authority Music Service and some private instrumental tutors. These instrumental lessons are in violin (classical and traditional), cello, double bass, flute, clarinet, trumpet, trombone, cornet, guitar, tin whistle, bodhrán.
We have three music groups in the school. The school choir, orchestra and traditional group are made up of children from P5-7 who are keen to extend their musical experiences. They have opportunities to perform at school events, local music festivals, religious services and other opportunities that may arise across the school year.
St Patrick's Primary School, Church View, Holywood BT18 9LN
Phone: 028 9042 4772